TACHOMETERS
RCA 40A SERIES TACHOMETERS
Our tachometer design is time tested and field proven. They can be found on both civilian and military aircraft. The precision jewel bearings and single-piece frame heatsink gives you a quality instrument that exceeds most OEM requirements.


RCA40A-10
This 2 inch instrument will give you many years of reliable service!
TORQUE INDICATORS
27-3007 SERIES TORQUE INDICATOR
Our featured Torque Indicator is a wet line, direct reading bourdon tube type instrument, housed in a 2" diameter case. Unit can be calibrated over a wide range of PSI inputs to direct-read torque.

Units can be furnished to your specifications. Indicate needed pressure input and pressure-to-torque conversion. This unit cannot be damaged by oil backup in vent line.

27-3007-4

27-3007-7
OIL TEMPERATURE
29-1004-SERIES OIL TEMP
Housed in a 2" diameter case, Our oil temperature gauge can be calibrated for either C° or F°. Oil Temperature is sensed by a MS28034-1 resistance bulb.

Different markings are available so call us for availability.

29-1004-10
LOW VOLTAGE INDICATOR
LOW VOLTAGE INDICATOR
Amber light will come on at the moment of a low voltage condition which will inform the pilot that attention is needed to the alternator, generator, or voltage regulator. Any of these conditions, when allowed to continue, may result in a weak or discharged battery resulting in loss of radio and electrical equipment operation.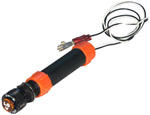 33-2013
Amber lens comes with a built-in dimmer and press-to-test feature. Red lens is press-to-test only.
33-2013 14v, Amber/dimmer
33-2013A 14v, Red lens
33-2025 28v, Amber/dimmer
33-2025A 28v, Red lens